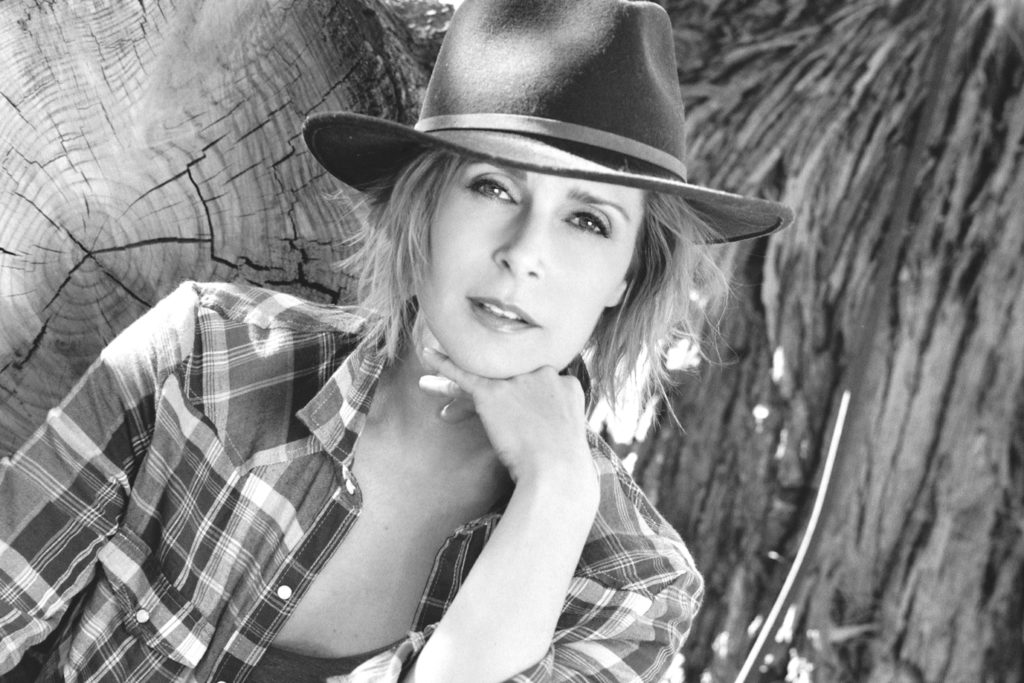 "From the first fiery note to the last whispery phrase, Christine Rosander's voice grabs hold and doesn't let go, stirring up yearning and desire long after a song has ended."
Vocalist Christine Rosander has the kind of voice that makes you want to laugh, cry and even shout a "Hallelujah!" or two. Her sultry mix of gospel — honed by a childhood of singing in church choir — country, folk, and jazz, warms the spirit with a captivating, earthy power.
The soundtrack to Christine Rosander's life started before she was born, her mother a piano teacher and singer, pregnant with her when she was a voice major in college. Christine grew up in northern California near Sacramento, the beginning of the Sierra Nevada Mountains in the distance, her family's church, Elk Grove First Baptist, where Christine went to Wednesday night prayer meetings, Sunday morning and evening services, her father a driving force in attendance. It was there she learned, getting the congregation ready to hear the sermon by singing to the top of the church rafters, that music healed, music made hurting souls well. She had found the power of music.
Years later, when she was introduced to jazz, she remembered back to a Sunday night church service and Mr. Stan Hagstrom singing, "There is a Balm in Gilead," which inspired Christine to do a jazz version on her first album, "Smooth Ride," earning an "Independent Female Vocalist of the Year" nomination from the Los Angeles Music Awards.
Christine's memories of luck and finding a person that inspires you came from meeting Mrs. Perla Warren, a much-loved Filipino concert pianist and teacher who, because of her brilliance, her passion for jazz and for life, changed Christine's life forever. She loved the improvisation and styling in jazz, loved that she could take a song and make it her own, tell her story through her own truths and intuitions, and become the Artist she wanted to be.
Yet truths, sometimes, are difficult to tell, many of their effects long lasting and painful. Words like betrayal or violence, words like doubt. But where do songs come from, where does art come from? From sadness and loss and often from the worst times in our lives, from fear and broken promises—soul damage. But also from inspiration and transformation, she told herself, from singing to the rafters and moving on.
Christine Rosander's latest single, "Been a Long Time" celebrates her grandfather Ray Rosander and the need we all have to connect with each other. "I was thinking about who anchors us to family, to love and who connects us to the earth. For me that person was my Grandpa Ray. He was a simple man, a farmer, but he taught so much about life by his example. He had a friendly, easy-going way and a deep spiritual love of life. He wasn't tied to material things. Connecting with his memory has been restorative.
I've realized that everything good about my life, everything important to me, has nothing anymore to do with painful memories or experiences. I am whole and wonderful and loved without them. I have been transformed in many ways. I believe in myself and write songs. I regain my self worth. I remember who I am and all I have to offer the world. I remember my parents and grandparents, my childhood and the legacies left me, remember my roots and family, special and wonderful. I remember the artists I listened to and loved and was guided by, as I hope to guide others. This is where I come from, this is my hope, my commitment, my authentic self."
Christine earned a bachelor's degree in Vocal Performance and Commercial Composing and Arranging from Cal State Long Beach and later became the first vocalist to earn a master's degree from USC in Jazz Studies. Currently she lives in Los Angeles working as a professional singer, musician, teacher and songwriter and is busy doing an IndieGogo campaign to make her latest album, "Been a Long Time".
"Been a Long Time" is my prayer for listeners. I hope they experience the healing power of music and are reminded of what is really important in life — the people we love and how we can make a difference in the world. Producing the music video for "Been a Long Time" brought the song to life in an even more powerful way. We used old film clips of my grandfather interwoven with those of my dad. The story, location and music came together effortlessly. I truly felt Spirit at work."
Read more about the story behind "Been a Long Time."
Press
Podcast by Apryl Lundsten at LA Podsquad, writer for American Girl, Producer/Reporter for public radio, museum docs, travel casts.
Listen to the podcast:
Click here to read the podcast transcript.
Review by Scott Yanow, writer for The Music Connection and author of nine jazz books, including Jazz on Film, Swing, Bebop, Trumpet Kings, and Jazz on Record 1917-76
Christine Rosander is a major talent with a distinctive and haunting voice. Her debut CD, Smooth Ride, offers a wide variety of influences and inspirations blended together to create some very personal, heartfelt, and memorable music.
"Originally Smooth Ride was just going to have a few originals," remembers Christine. "But after I met pianist Jane Getz through Louis Taylor, she encouraged me to write more material. The project took on a life of its own and it went in a different direction than I had originally planned. Jane also wrote a few songs for me to sing and persuaded me to play piano more. The CD fell magically into place without too much planning. It just seemed natural." Christine's ability as a songwriter had really blossomed in recent times and this project has brought out the very best in her very expressive singing.
For Smooth Ride, Christine Rosander is joined on various selections by Jane Getz (whose early career in New York as a jazz pianist was followed by a lengthy and very successful period in pop music before she returned to jazz in more recent times), pianist Deron Johnson, bassists Anders Swanson, Dan Lutz and Chris Colangelo, drummers Frank Wilson, Scotty Lund, Chris Blondal and Michael Barsimanto, percussionists Rich Mangicaro and Cassio Duarte, saxophonist Louis Van Taylor and trombonist Wendell Kelly. "I want to especially mention Bob Tucker who was co-producer, engineer and played all the guitars and even pedal steel on the album. He had a huge part in the sound and feeling of the record. I'm spoiled after working with him; he really knows how to record vocals as he showed on earlier recordings for the Temptations and India.Arie."
While the supporting cast is strong, the focus throughout is on Christine's vocal, her music and her storytelling. "There is an autobiographical theme that runs through the CD. There is a reflection of me in the songs, I now realize, about yearning and looking for relief. Many of the originals on this album have gospel influences and evoke a spiritual quest or journey" The program begins with the title cut, "Smooth Ride." "It's about wanting a little comfort, a smooth ride. This song was fun to sing, showing off my country gospel roots." The cheerful lyrics are a request for love and stability.
"Kitten" is an upbeat love song that has a catchy melody and celebrates the joy of passionate love and "finding a little piece of sunshine." "Cattle Press" was inspired by an NPR interview of an autistic woman, Temple Grandin. When she was a teenager, she noticed cattle being put into a squeeze machine so they could be doctored. When she saw how peaceful they became, she begged to be put into the cattle press too and immediately felt a calmness and relief. She has since become an animal scientist, designing more humane cattle presses used by both cows and autistic people. "This was so intriguing to me. I thought what would that be like to crave that pressure and find relief in it?" Christine's song, which she co-wrote with Jane, says "Baby I need pressure, like a cattle press. Put your arms around me, squeeze out my regrets." "Good Boy", co-written with Ronnie Shelton, discusses the sadness of separation.
"Sailing," which was co-wrote with her student, Sarah Chernoff and her husband Jeff Whitley, is about trying to repair a relationship before a couple drifts completely apart. The quintet spontaneously gave the song a reggae feel behind the vocals and the optimistic interpretation makes one believe that Christine's plea will be answered. "I really enjoy singing Jane's 'My Heart is a Ghost Town.' It is like a little movie, creating a strong atmosphere of a place and time with a lot of images. It also has the feeling of loss and yearning." Jane Getz also wrote "The New Route 66." Christine shows the influence of early Rickie Lee Jones on this nostalgic look at the beat generation.
"Boxer" is based on a real story about a troubled boxer, using his words and talking about how he finds release from the past. Linda Jackson's background vocal is a major asset.
Jane Getz's song "My Own Little World" is about finding a little place to call one's own, even if it is just a dream. "Put Your Mind On Me," one of the first songs written for the CD, also with Shelton, is an inspirational song that says, "Close your eyes and imagine a place where you can go, far away from cares that bind you and all the pain you know. You can have something deeper, just reach out your hand, put your mind on me and you will understand." "Balm In Gilead," is a hymn that Christine has always loved. "I heard this growing up in church and it meant so much to me. The word 'balm' sounded so strange, but I could feel the power in it, the comfort and the encouragement. I wanted to tap into that, and give the song a joyful groove and make it my own." Smooth Ride concludes with the heartfelt "Traveling Mercy." The song was inspired by the book Traveling Mercies, by Annie Lamott, and has Christine looking for help in finding answers. "It's about a journey, about asking for strength and a bit of surrender too."
Christine Rosander grew up in Northern California near Sacramento. Her mother was a piano and voice teacher and a church choir director. "I often heard her giving lessons, so that became the soundtrack for whatever I was doing. I remember my dad had a record collection with Patsy Cline, Hank Williams, Johnny Cash and cowboy singers that I listened to until I had every line memorized." Christine had classical piano lessons from the age of four and often sang duets with her mother.
While attending college, Christine discovered jazz. "I had been thinking of doing classical music but, once I was introduced to jazz by my teacher Mrs. Perla Warren, I went in a different direction. I was painfully serious and studious at the time and the freedom of jazz opened me up. I loved the improvisation and styling and that I could take a song and make it my own." She earned a bachelor's degree in Vocal Performance and Commercial Composing and Arranging from Cal State Long Beach and later became the first vocalist to earn a Masters degree from USC in Jazz Studies.
After college, Christine worked with the a capella group Terra Nova, performed regularly in Los Angeles area clubs with her combo and became a music teacher, currently instructing around 25 students. She recorded several albums with the Doc Rutherford big band. Christine also sings with the Fab Four in their tribute to Wings, as Linda McCartney.
"This has been so fun and surreal at times. We have performed in huge venues, with original Wings band members, drummer Denny Seiwell and lead guitarist Laurence Juber, and the fans are amazing."
"I sang jazz for years, but I always had this deep desire to express myself through writing my own songs. When I met Jane Getz and we started this album; that was the catalyst to go in this new direction. Now my music, if I had to describe it, is a mix of Nina Simone, Rickie Lee Jones, Carole King and Joni Mitchell in style, but it also includes the influence of all of the many styles that I've heard in my life."
Christine Rosander is enthusiastic about the future. "I really want more people to hear my music, and I think some of my songs would be perfect to use in films. I hope to keep writing, singing, touring with this group and growing as a singer, writer and person." With the success of Smooth Ride, which displays her warm and touching vocals along with her ability to tell important stories in her music, Christine Rosander has made a major musical statement.
-Scott Yanow, writer for The Music Connection and author of nine jazz books, including Jazz on Film, Swing, Bebop, Trumpet Kings, and Jazz on Record 1917-76
Los Angeles Scoop Newspaper: Christine Rosander At Tangier's
By Buddy Sampson, Entertainment Editor
With a voice that features a smooth vibrato, Christine Rosander has a voice that is uniquely hers. And her voice was on magnificent display at Tangier's in Los Feliz, showcasing her CD, Smooth Ride. Her breathy style of vocals complimented a great and simple backdrop of music. If you had to categorize her, which is virtually impossible, she has traces of Anita Baker, Julie Andrews, Cher and Celine Dion in her capable vocal range.
Rosander, who had Jane Getz on piano (who has played with John Lennon, Charlie Mingus and the Bee Gees), displayed musicianship of her own, playing the electric piano on a few of the compositions of her set. She started her evening with solo piano, bass and drums. Early in the set, her third song, "Smooth Ride," the title track of her CD, was a mid-tempo crowd pleaser.
The fourth song, my personal favorite, "Good Boy," was dedicated to her stepson. She performed that tune on "People You Should Know," a TV show on Time/Warner a few years ago. The fifth song, "Sailing," was a perfect compliment to all the songs in her mellow set. Pianist Getz assisted on writing or co-writing a number of songs on the CD, including "My Heart Is A Ghost Town," easily one of the most beautiful songs of the set. Later in her set, she performed a song called "Cattle Press,' a sensual song about intimacy and affection. "Balm in Gilead" started with a great bass line. It was a well-done song, maybe the most musical of the set. It featured wonderful playing from Getz, who penned a later song in the set, The New Route 66, an up tempo song.
She seemed to save some of the prettier songs for late in her set, including a song she dedicated to her husband. Her last tune, "My Own Little World," was an introspective piece that encapsulated the spirit of her wonderful CD.
The music of her set painted a canvas of encouragement-with spiritual lyrics and inspired choruses. If you hear the name Christine Rosander, you should run, not walk to see her perform. As beautiful as a fashion model, with a voice like an angel, look for big things to come from this outstanding artist.
CD Review/Fushion Magazine: Smooth Riding for Christine Rosander
By Abbey Khan
Southern Californians know musical artist Christine Rosander for her sultry, seductive, and sexy voice. Now it's time for the rest of the world to get to know Christine. Her distinctive style is a melting pot of jazz, pop, rhythm and blues, and folk, making her an original.
In Christine's new CD Smooth Ride, she sings about the joys and sorrows of being alive. She drew inspiration from her own life such as her favorite books, her singing lesson students, her stepson and even an autistic woman who was interviewed on NPR.
Get inspired and enjoy the ride with Christine!
Fushion Magazine
825 Wilshire Blvd., #430
Santa Monica, CA 90401
info@fushionmag.com
EDITOR-IN-CHIEF
Abbey Khan
Indie Music Stop – CD Review: Christine Rosander – Smooth Ride
CD Review:
Artist: Christine Rosander
Title: Smooth Ride
Website: http://www.christinerosander.com
Style: Pop/Jazz/Folk
Rating: 8.4 out of 10
By Senior Writer C.W. Ross
While Smooth Ride is the solo-debut release from Christine Rosander she has a long history with music that started with her performing at the young age of five. She has studied classical piano and earned a bachelor's degree in vocal performance along with commercial composing & arranging from Cal State Long Beach College. She also has a master's degree from USC in jazz studies.
Christine Rosander puts all of that musical knowledge to use on Smooth Ride with its mixture of pop, jazz, folk, and blues styles of music. You'll also find one country flavored song, the first and title track, "Smooth Ride," complete with steel pedal guitar.  Rosander describes her music as a mixture of Rickie Lee Jones, Joni Mitchell, Nina Simone and Carole King in sound.
Most of the songs found on Smooth Ride are original and written by Christine along with Jane Getz who besides co-writing songs also produced the CD along with Grammy Award winning co-producer Bob Tucker.
Words like soulful and sultry have been used to describe Christine's lyrical style. Her vocals are smooth and rich and bring each of the song's lyrics to life.  I'm sure that some of that passion comes from the fact that she's often singing about parts of her own life in the songs.
Rosander uses her life experiences for the song's subject matter. In her press material she says that her inspiration comes from, numerous journeys and experiences that she has encountered throughout her life, such as favorite books, her singing lesson's students, her stepson and from an even an autistic woman that she heard interviewed on NPR.
Rosander has also wisely surrounded herself with a great group of talented musicians who offer up the musical painting for her vocals to be layered on top of.
Christine Rosander shows on Smooth Ride that she has both the musical and song writing talents to build a long bright musical future for herself.
Posted by Staff at 6:34 PM
http://www.indiemusicstop.com/
IMPROVIJAZZATION NATION
Christine Rosander – SMOOTH RIDE:  We reviewed a fantastic vocalist in our last issue, Carla Hassett… she sent us information on Christine, & we got in touch right away (after checking her out on the web).  "Smooth Ride" features an even dozen tracks, all but one of them being originals (which is the music we really like to review – I mean, there's nothing wrong with covers, but I seem to get a much better "feel" for the "inside" of the player when the tunes were written by them).  The music Rosander writes isn't jazz, per se, though that spirit (blues, jazz) is a part of what she projects (particularly the blues part), 'specially on comps like "Cattle Press"… high energy playin', & laden with emotion (though without falling in th' dreaded "sappy" realm).  The album is well-recorded; on the "tech-end".
There are snatches of blues, some heavy soul & even songs that come close to bein' a little "countrified"; a real smorgasbord of styles… I can hear a lil' bit of Rickie Lee in there, or maybe Bonnie Raitt.  This is high talent & very attractive music that will weave you (easily) into it's spell.  Definitely a "keeper" for listeners who want somethin' to "tool on down th' road" with.  My ears rate it as HIGHLY RECOMMENDED, to be sure.  To get more information, check out the site at www.christinerosander.com (this debut album hits the streets 'round 17 October, 2007).  Rotcod Zzaj
IMPROVIJAZZATION NATION
http://zzaj.freehostia.com/Reviews78.htm